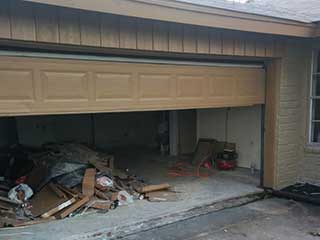 Outstanding quality and commitment to work ethic are the cornerstones of our business. The skilled technicians at Garage Door Repair, Littleton will figure out whatever problem you're facing, whether it's a broken spring or a garage door opener that's producing too much noise lately. Have a look at our services below.
Goodbye to Your Noisy, Old Opener
When dealing with replacements, our highly-skilled team can accommodate you with high-quality installation and consulting services. The technicians will carefully remove your old unit, making sure no further damage is done to your system and install the new unit piece by piece, ensuring it works at its optimal rate. As for your options, you are able to choose from our extensive inventory of top-quality products, coming straight off the production line from the most reputable US brands, such as Chamberlain, LiftMaster, and Genie.
Replacing Your Set of Broken Springs
Homeowners harbor this delusion that once their springs break the entire garage door needs to be replaced. This is not the case at all as springs can generally be replaced in a couple of hours and your door will be back in working order. Your springs will eventually wear to the point of breaking as there are only so many cycles they can do (usually about 10,000). Once this happens, count on our experienced technicians to change the faulty springs with correct, high-grade replacements that will last longer and work like a charm!
Broken Panel? We've Got You Covered
A seemingly minor problem such as a dented or damaged panels on your garage door can lead to a much costlier repair down the road if not addressed quickly. Our technicians follow the industry practice saying a door shouldn't be replaced unless there are more than two panels that are damaged. They'll identify the correct fit for your system and replace them with no disruption to your daily operations.
Give us a call today to get your door back in order and enjoy a less stressful life. Our team is at your service.
We also offer:

Overhead Garage Doors

Garage Door Remote Clickers

Garage Door Out of Track

Garage Door Safety Inspections